No fluff - just the best news in paid search marketing every week.
Single-Keyword Ad Groups: Maximizing Mobile Performance With Enhanced Campaigns
In early February of 2013, as part of the most debated AdWords update in recent history, Google introduced the concept of mobile bid adjustments, giving search marketers the power to optimize bids across devices for a single campaign. Though these adjustments were originally introduced at the campaign level, Google subsequently expanded the capability to individual ad groups. In tune with industry feedback, this additional control was much needed and well received.
However, as the July 22nd migration deadline approaches, many advertisers worry about their ability to optimize mobile performance without the ability to adjust bids at the keyword level.
Applying a group-level mobile bid adjustment for an ad group that contains both high- and low-volume keywords, with varying differences in desktop versus mobile performance, would undoubtedly result in sub-optimal bids and performance for certain keywords in the ad group.
To address this challenge, many advertisers are considering or have already begun leveraging a tried strategy for structuring paid search campaigns: single-keyword ad groups.
Though single-keyword ad groups may be more appealing to some advertisers with the introduction of enhanced campaigns, search marketers must remain objective and consider the challenges and risks involved in introducing this added layer of complexity.
The Pareto Principle
Based on the Pareto principle (the 80/20 rule), where 80% of the effects come from 20% of the causes, single-keyword ad groups enable search marketers to maximize a significant share of clicks, conversions, and revenue, while only optimizing for a small subset of isolated keywords.
Though the 80/20 ratio may vary across advertisers and industries, the concept remains the same — the majority of paid search performance can be attributed to small percentage of keywords, and optimizing across that small percentage can yield the largest return on investment.
Long before enhanced campaigns, advertisers were isolating brand keywords into separate ad groups. Brand keywords represent a very small percentage of total active keywords, but are typically responsible for a significant share of clicks, conversions, and revenue. Consequently, creating single-keyword brand ad groups was a natural strategy for maintaining complete control over revenue outcomes while introducing minimal work and complexity.
Keyword-Level Mobile Bid Adjustments & More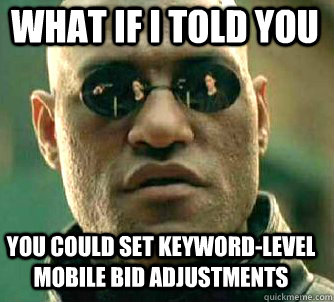 With the announcement of group-level mobile bid adjustments, search marketers are now more inclined than ever before to expand the application of the Pareto principle to top performing non-brand keywords.
By splitting out keywords with significantly different desktop versus mobile performance into separate ad groups, search marketers can calculate and set group-level mobile bid adjustments that function as keyword-level mobile bid adjustments.
In addition to pushing optimal desktop, tablet, and mobile bids, search marketers will also have complete control over keyword-creative combinations for improved ad relevancy and the ability to run more sound creative tests.
Since only one keyword can trigger multiple creative in single-keyword ad groups, variance in keyword and creative performance as a result of having multiple keyword-creative combinations will no longer be an extraneous variable when analyzing creative testing results.
Also keep in mind that sitelinks are now available at the ad group level. Therefore, single-keyword ad groups will also benefit from more relevant sitelinks and granular landing pages.
Three Things To Consider
Though single-keyword ad groups enable advertisers to better optimize for non-brand performance with enhanced campaigns, they do introduce added complexities and challenges that search marketers must consider.
Before leveraging a single-keyword ad group strategy across top performing or high volume brand and non-brand keywords, consider the following:
1. Effects On Quality Score
Executing on a single keyword per ad group strategy often requires the movement of keywords from one ad group to another. When doing so, it's important to understand the potential impact of these movements on Quality Score. In determining a keyword's Quality Score, Google looks at the combination of the keyword, creative, landing page, and device. By preserving this combination, search marketers can minimize and oftentimes eliminate the impact on Quality Score when isolating or restructuring sets of keywords.
If a keyword is moved to its own ad group, copy over the original ad creative and landing page, and ensure the device targeting remains the same. In cases like this, even though the account structure has changed, the keyword, creative, landing page and device combination has not; and the experience from a user's point of view remains the same. Consequently, Google won't need to relearn anything about the ad's relevance, performance, or other criteria for determining Quality Score.
Should the keywords' combinations change, such as with the introduction of new, more relevant ad creative, Quality Scores will be impacted and performance will fluctuate as Google relearns and determines new scores. As a best practice, remember to pause keywords and ad creative rather than deleting them so that they can be quickly reactivated should performance suffer.
2. Added Complexities
The number of single-keyword ad groups will determine the level of complexity that search marketers will have to manage, report, and optimize to. Drilling into hundreds or thousands of single-keyword ad groups to analyze and optimize keyword bids, mobile bid adjustments, ad creative, destination URLs, or negative keywords can be very time consuming tasks.
If the ability to execute these day-to-day optimization strategies suffers as a result of the increased complexity, performance will suffer regardless of having keyword-level mobile bid adjustments.
Effectively managing, reporting on, and optimizing single-keyword ad groups requires a number of unique capabilities:
Tag your ad groups and keywords with Labels (AdWords) or Dimensions (Marin Software) to group similar keywords or identify single-keyword ad groups.
Leverage bulk sheets and multi-edit capabilities to efficiently make changes across single-keyword ad groups, such as updating destination URLs or adding new negative keywords in bulk.
Set up recurring reports and account alerts to quickly gain insight into top performing keywords and to monitor the performance of newly created single-keyword ad groups, respectively.
3. No Historical Data Or Data Sparsity
Historical data will not accompany keywords that are moved to new ad groups. For high-volume keywords, this is more of a short-term concern than it is long-term. However, low-volume keywords, which characterize a large percentage of non-brand keywords, will take time to accrue performance data. As a result, the ability to calculate optimal keyword bids and mobile bid adjustments based on a significant amount of data will be severely impaired.
Remember, when identifying keywords to split out into individual ad groups, focus on top performing or high-volume keywords that vary significantly in desktop versus mobile performance. This will limit account complexity and the prevalence of keywords impacted by sparse data. The table below provides an example of when and when not to utilize single-keyword ad groups.
KW3, though its desktop versus mobile performance differs from the group average, doesn't need to be split out due to low volume. KW6, though it has high volume, doesn't need to be split out since its desktop versus mobile performance doesn't vary significantly from the group average. KW8 has high volume, and its desktop versus mobile performance differs significantly from the group average; therefore, it should be split out into its own ad group.
With only a month left until Google's migration deadline, single-keyword ad groups will undoubtedly be a popular topic of discussion. In order for this strategy to be successful in the world of enhanced campaigns, advertisers must understand the challenges and risks outlined above and weigh them against the potential benefits.
If you're considering or are currently managing and optimizing single-keyword ad groups, please share your thoughts or experience below.
---
Some opinions expressed in this article may be those of a guest author and not necessarily Search Engine Land. Staff authors are listed here.
---
Be a part of the world's largest search marketing conference, Search Engine Land's SMX East. The robust agenda covers the latest tactics in paid search, SEO, mobile, analytics and more. Register today and save $300, or come as a team and save 10%-20%.
(Some images used under license from Shutterstock.com.)