Google Finance Plus Signs In Google Search Results
Threadwatch spotted plus signs within Google search results that contain Google Finance information. A search at one Google data center on computers brings back the follow results: Clicking on the plus sign, opens a Google Finance preview. This is similar to Google Maps plus sign in the Google search results. Hat tip to Google Operating […]
Threadwatch spotted plus signs within Google search results that contain Google Finance information. A search at one Google data center on computers brings back the follow results: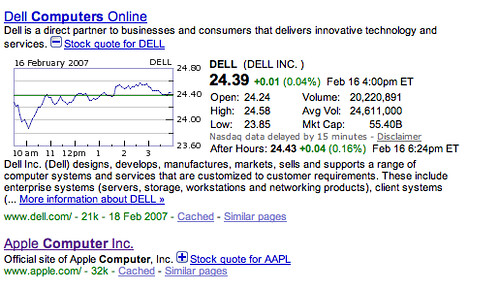 Clicking on the plus sign, opens a Google Finance preview.
This is similar to Google Maps plus sign in the Google search results.
Hat tip to Google Operating Systems also.
---