Small Business Alert: Claim Your Google Local Business Listing Before Someone Else Does!
Imagine going to the Post Office to check your post office box to discover that all of your mail and receipts for the past few weeks had been forwarded to an unknown party. The Post Office informed you that there was no chance of getting your receipts back and if you wanted to start receiving your mail at your PO box once again, you needed to go over to their new business center and fill out some forms to claim your box. Just notifying the Post Office that it was your box was not enough to protect it in the future. Due to normal delays in processing it would be 2 weeks before you started receiving your mail and money again.
If you're a small business with a local listing in one of the major search engines, you need to beware: the same scenario described above could happen to your local search result info if you're not careful.

The apparent hijacking of a large number of independent florists in Google Maps several weeks back is just such a story. Google, in the role of Post Office, allowed someone to hijack listings in the Florist industry using the community edit feature.
For those of you unfamiliar with the incident here is a brief recap. The technique, apparently in widespread use in the locksmith, pay day loan and other industries, exploited weaknesses in Google's Community Edit capability. In this newly reported case in the floral industry, affiliate mapspamers targeted high ranking florists in major markets that had not claimed their business listings in the Local Business Center so as to be able to benefit from an existing businessâ ranking and reviews.
The spammers, using these community edit tools, would change the phone number to another local number, change the location of the business slightly and then proceed to add a category, a new URL and ultimately the change name of the business. Apparently the small move in location convinced Google's system that all subsequent changes were legitimate. The listing would retain the ranking and reviews of the original business but redirect to a Canadian florist fulfillment house via the affiliate's website. The listings displayed prominently in the Local 10 Pack on searches for florist in major markets across the U.S.
Here are some screen captures (from Real Florist) that illustrate the sequence of events.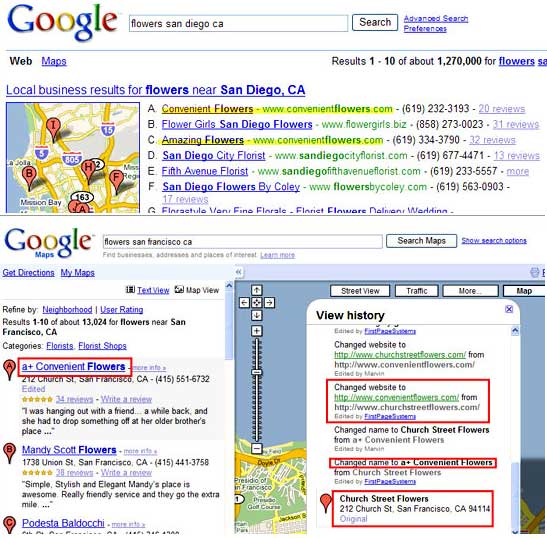 Clearly every small business needs to claim their listing in Google's Local Business Center to be sure that the information that is presented to the public is accurate. But as we have seen, not every small business is aware that they need to do so and even if they are, there is anecdotal evidence that they still can't figure out how to do so. Clearly more has to be done and responsibility for making sure that local business data is secure falls directly onto Google.
There have been a number of suggestions for Google on procedures and practices in vetting user generated content. Certainly those or something similar needed to be implemented.
More importantly, Google needs to put the full weight of their commitment behind local. From the top down, Google needs to commit the resources and integrity to local search that it deserves. We know that Google's role in local has been critical in moving local marketing front and center with Universal search. Their efforts at providing deep local information via Google Earth and their Google Vote are impressive.
But as Google's dominance of search transfers to local, there is an attendant rise in their responsibility. They need to play in the local space like these businesses were their neighbors not just a pieces of data. The standard for success in local needs to move from relevance to truthfulness and when there is a mistake there needs to be openness and speed in correcting it.
We are in the early days of local search and just getting a glimpse of its incredible power to influence. If we are to ever hope that it will be more than the snake oil salesman of the new millennium than now is the time for Google to step and guarantee that there is integrity and accuracy in the results.
Mike Blumenthal is a student of life, political economy and local search. He writes the blog Understanding Google Maps and Yahoo Local Search and is a partner in a small web design company in upstate NY.
---
Opinions expressed in this article are those of the guest author and not necessarily Search Engine Land. Staff authors are listed here.
---