Announcing The 2007 "Columbo" Humorous Blog Post Winners
The fix is in, the votes have been counted, and the winners determined in the 2007 Rubber Chicken Award for Humor (aka the Columbo) in the search industry. And the winners are: The Judges' Choice Award: Top 21 Signs You Need a Break From SEO (2007 version) Matt MccGee – Small Business SEM The People's […]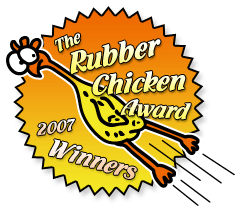 The fix is in, the votes have been counted, and the winners determined in the 2007 Rubber Chicken Award for Humor (aka the Columbo) in the search industry. And the winners are:

The Judges' Choice Award:
Top 21 Signs You Need a Break From SEO (2007 version) Matt MccGee – Small Business SEM
The People's Choice Award:
Google Interiors: The day my house became searchable – Sandra Niehaus – Closed Loop Marketing
Runner Ups (in no particular order and for the purposes of this contest tied for 2nd):
The Other Finalists (and all winners just the same):
Your rubber chicken or surrogate will be mailed to you shortly.
Mike Blumenthal is a student of life, political economy and local search. He writes the blog Understanding Google Maps and Yahoo Local Search and is a partner in a small web design company in upstate NY.
---
Opinions expressed in this article are those of the guest author and not necessarily Search Engine Land. Staff authors are listed here.
---